Overview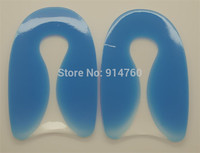 Achilles tendinitis is often a misnomer, as most problems associated with the Achilles tendon are not strictly an inflammatory response. A more appropriate term, which most experts now use, is Achilles tendinopathy which includes, Tendinosis, microtears in the tissues in and around the tendon. Tendinitis, inflammation of the tendon Most cases of Achilles tendon pain is the result of tendinosis. Tendon inflammation (tendinitis) is rarely the cause of tendon pain. Achilles tendinopathy is a common condition that occurs particularly in athletes and can be difficult to treat due to the limited vascular supply of the tendon and the stress within the Achilles tendon with every step. Evidence indicates that treatment incorporating custom foot orthoses can improve this condition by making the foot a more effective lever in gait. A 2008 study reported between 50 and 100% relief (average 92%) from Achilles tendinopathy symptoms with the use of custom foot orthoses.
Causes
Excessive exercise is a common cause of Achilles tendonitis. This is particularly true for athletes. However, factors unrelated to exercise may also contribute to risk. Rheumatoid arthritis and infection are both correlated with tendonitis. In general, any repeated activity that strains the Achilles tendon can contribute to this problem. Here are a few possible causes, jumping into an exercise routine without a proper warm-up, straining calf muscles during repeated exercise or physical activity, playing sports such as tennis that require quick stops and changes of direction, wearing old or ill-fitting shoes, wearing high heels every day.
Symptoms
The Achilles tendon is a strong muscle and is not usually damaged by one specific injury. Tendinitis develops from repetitive stress, sudden increase or intensity of exercise activity, tight calf muscles, or a bone spur that rubs against the tendon. Common signs and symptoms of Achilles Tendinitis include, gradual onset of pain at the back of the ankle which may develop in several days up to several months to become bothersome. Heel pain during physical activities which may diminish after warming up in early stages, or become a constant problem if the problem becomes chronic. Stiffness at the back of the ankle in the morning. During inactivity, pain eases. Swelling or thickening of the Achilles tendon. Painful sensation if the Achilles tendon is palpated. If a pop is heard suddenly, then there is an increased chance that the Achilles tendon has been torn and immediate medical attention is needed.
Diagnosis
A doctor examines the patient, checking for pain and swelling along the posterior of the leg. The doctor interviews the patient regarding the onset, history, and description of pain and weakness. The muscles, tissues, bones, and blood vessels may be evaluated with imaging studies, such as X-ray, ultrasound, or MRI.
Nonsurgical Treatment
Nonsurgical methods include rest and stop doing activities that cause stress to the tendon. Ice the area by applying ice to the tendon for 15 minutes after exercising. Compress the tendon by using an athletic wrap or surgical tape. Elevate your injury. You can reduce swelling by lying down and raising your foot at a level that is above your heart. Stretch your ankles and calf muscles. Take anti-inflammatory medication (e.g.: ibuprofen to reduce swelling). Wear orthotics and running shoes. Take part in physical therapy.
Surgical Treatment
Surgical treatment for tendons that fail to respond to conservative treatment can involve several procedures, all of which are designed to irritate the tendon and initiate a chemically mediated healing response. These procedures range from more simple procedures such as percutaneous tenotomy61 to open procedures and removal of tendon pathology. Percutaneous tenotomy resulted in 75% of patients reporting good or excellent results after 18 months. Open surgery for Achilles tendinopathy has shown that the outcomes are better for those tendons without a focal lesion compared with those with a focal area of tendinopathy.62 At 7 months after surgery, 67% had returned to physical activity, 88% from the no-lesion group and 50% from the group with a focal lesion.
Prevention
While it may not be possible to prevent Achilles tendinitis, you can take measures to reduce your risk. Increase your activity level gradually. If you're just beginning an exercise regimen, start slowly and gradually increase the duration and intensity of the training. Take it easy. Avoid activities that place excessive stress on your tendons, such as hill running. If you participate in a strenuous activity, warm up first by exercising at a slower pace. If you notice pain during a particular exercise, stop and rest. Choose your shoes carefully. The shoes you wear while exercising should provide adequate cushioning for your heel and should have a firm arch support to help reduce the tension in the Achilles tendon. Replace your worn-out shoes. If your shoes are in good condition but don't support your feet, try arch supports in both shoes. Stretch daily. Take the time to stretch your calf muscles and Achilles tendon in the morning, before exercise and after exercise to maintain flexibility. This is especially important to avoid a recurrence of Achilles tendinitis. Strengthen your calf muscles. Strong calf muscles enable the calf and Achilles tendon to better handle the stresses they encounter with activity and exercise. Cross-train. Alternate high-impact activities, such as running and jumping, with low-impact activities, such as cycling and swimming.